Dallas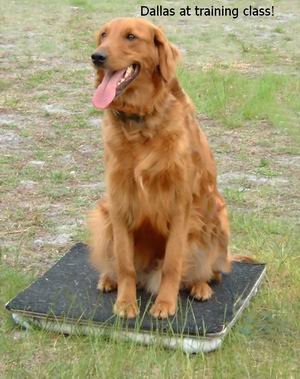 First let me say thank you to all of you who made it possible for us to adopt Dallas! We are enjoying his company and we know he enjoys ours as well.
Dallas adapted right away from day one way back in November 2002 when we brought him home. Since we weren't sure about his true birthday we gave him November 11 as his official birthday - Veterans Day! (I'm an old soldier so it seemed very fitting.)
Dallas has been great - mischievous, playful, caring and comforting. At 18 months old he is all that we had hoped for and more! He loves our backyard and runs after everything - animate or inanimate - squirrels or leaves - and has made it his play land!
He has been to the beach and romped in the sand and surf. And as soon as we get a break in the weather we are going to head to the bay for more water fun!
For the first part of this year Dallas has been going to training! And I can say with all humility and prejudice that he is doing well. Hopefully he will pass his CGC/TDI tests and will soon be heading off as a Therapy Dog to share his energy and enthusiasm with the young and old.
I am enclosing his picture, taken at training class. Again, Thanks to all of you, continue your good work and I will keep you up-to-date about Dallas and his adventures.
Andrew J. Marotta