Gina
To all my friends at LIGRR,
Just a little update on my progress. My bedsore is completely healed and all my hair has grown back. I have a beautiful coat and my weight is about 50 lbs. Hydrotherapy and massages are ongoing and VERY MUCH ENJOYED!!! As for my hind legs, they are becoming stronger and stronger everyday. When mom tickles my belly, I can kick them both very hard (I LOVE WHEN SHE DOES THAT)!!!! Believe it or not, I can even support my weight on my hind legs for a couple of minutes, but I know I still have a long way to go. I visit with Dr. Franz once a week to do my acupuncture, they are all so nice to me there!!! Walking on all four legs some day is my goal and I work VERY HARD each day trying to achieve that. My bladder infection is still very much a problem for me. Dr. Franz and mom are trying to get that under control.
My wheelchair helps me to go for walks and to go out and visit with friends. Mom started taking me to visit children and adults who are also in wheelchairs at AHRC. I have to be honest, I don't know who has more fun (me or my new friends at AHRC).
By the way, the holidays were so wonderful for me. I could just feel how much I am loved and cherished by my whole family (ripping apart wrapping paper and dragging it all over the house with my two sisters was a lot of fun too.) I am truly blessed, not only for all the love I receive but also for your support and generosity!!!
Please keep me in your thoughts and prayers, IT MEANS SO MUCH!!!!
HAPPY NEW YEAR to you and your families and my 2007 be a happy and healthy one for all of us!!!!
LOVE
GINA (and family)
---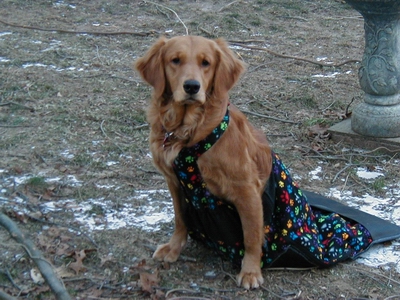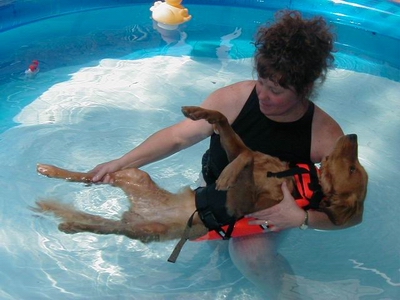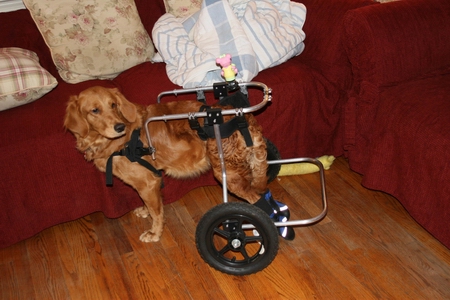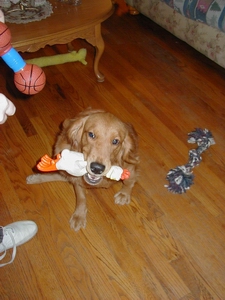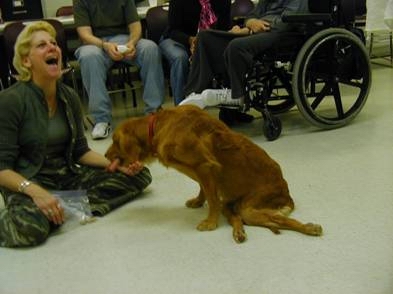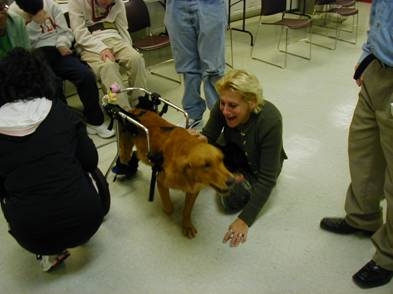 ---
Dear LIGRR,
Just a quick update on Gina. She has gained about 13 lbs in the last few months and her bed sore is just about healed, however we are still fighting this chronic bladder infection. The doctor just started her on an injectable antibiotic along with subcutaneous fluids which we are hoping will work. Gina is also receiving hydrotherapy and acupuncture for her hind legs. She is now starting to show some improvement. She is truly an inspiration and such a joy to have in our home and with our family. Please keep her in your prayers. Gina enjoys her therapy and is working hard to get better. We thought you would like these pictures of her in the water!
Thank you,
Debbie, Dan and Jessie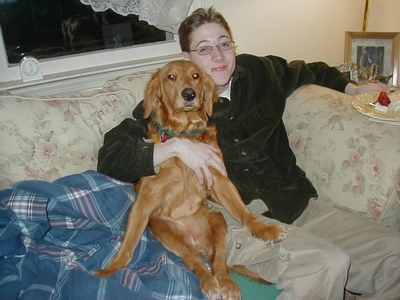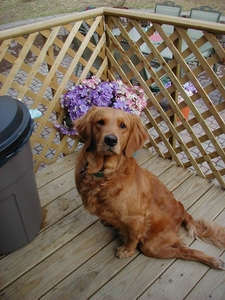 ---
Gina is a one year old female. She was found along the side of the road. She had been hit by a car. She was taken to an animal hospital, and was scheduled to be euthanized that evening. The veterinarian called us to see if we would be willing to take this sweet and gentle baby. We agreed and took her to a neurologist who confirmed that she had a spinal cord injury. Everything that can be done for this dog is being done. The surgeon feels that she has a very good chance of regaining the use of her legs. Her medical bill is quite high. At the moment she needs a quiet home in which to recuperate, financial support and your good thought. If you can, please reach out to Gina in any way that you can.
We have been offered a donation of a cart from Doggon' Wheels. They have been very nice and very generous. She has found a foster home where she is enjoying swimming and home cooked meals. She feels loved and feels like she belongs there. She is still struggling with some medical problems and has a bed sore which needs attention, but is making great progress. Her medical bills are mounting. Long Island Golden Retriever Rescue continues to accept donations on her behalf.