Jake
Dear LIGRR: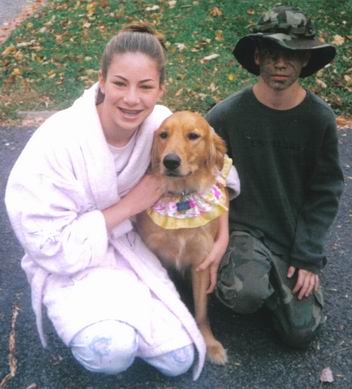 As you know, we got Jake from LIGRR after things did not work out with Shane, who we had for three or four days. Even in that short time, we got very attached to Shane. We still miss him, talk about him and hope he has a good life.
However, we were lucky enough to get Jake right away and "exchanged" him for Shane.
According to the records that came with him, Jake was born on July 1, 2000. We got him from LIGRR in May 2001 when he was 10 months old. The records also indicate that we were the third family to have him.
Not surprisingly, Jake was very timid at first. It took nearly a year before he really got comfortable with us.
As with all Goldens, Jake has a unique personality. His play drive is unbelievable. He runs like a Greyhound and jumps like a Border Collie. He is fairly small for a male Golden, but we believe that contributes to his agility and will result in fewer orthopedic problems as he ages.
We obedience-trained him ourselves and the results are pretty good considering the difficulty in terms of lack of consistency between how each family member works with him.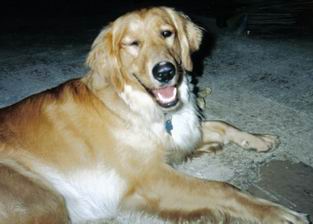 He loves to fetch and wakes us up every morning (and in the middle of the night to play if we don't tire him out the evening before) by bringing a mouth full of laundry. I have no socks without holes. He is attempting to break the record for the most clothing he can hold in his mouth at one time.
We have a grass, tree, and shrub-covered fenced yard (90 feet by 90 feet) where he loves to spend time exploring and lying in the sun. We also live two blocks from the local High School Campus where he runs safely off the leash almost daily and sometimes twice a day. We also occasionally take walks around town and he loves to ride in the car and go to the kid's soccer games, track meets, etc. where he always attracts little children to play with. He is gentle with them and makes friends everywhere. He is our family's ambassador of good will.
Jake is very healthy and receives regular veterinary care (monthly Interceptor & Frontline), annual vaccinations, etc. His teeth are clean and white from frequent bone chewing. We make sure he maintains an ideal weight. We trim his nails and comb/brush him regularly. He enjoys all the attention paid to him.
We are currently working on some new tricks like crawling and dancing.
Thanks for everything,
The Krones