Golden Good Times Two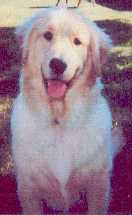 One day while at the Animal Hospital, I had my first accidental meeting with an 11 month old chubby golden named Cora. They told me she was available for adoption. She was born with bilateral ectopic ureter which was somewhat successfully treated by surgery, but she would be on lifetime medication. I had always been a golden lover but never a golden owner. I already had a 13 year old mixed breed, a 14 year old mixed breed, and 2 cats at home. After a discussion with my hubby and a little push from friends and family we adopted her. Our little leaky valve turned out to be our best gift.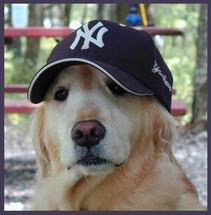 We quickly found out that owning a golden is like eating peanuts, you can't have just one. Having lost the 14 year old and with the 13 year old now 14 with severe heart disease we put in our application to LIGRR. Within a month we were the proud owners of our second "peanut". We named her Amber because she responded to it. She came to us severely underweight at 41 lb., with bad flea dermatitis, and with an ear infection. The only thing we know is that she was abandoned at the Animal Shelter. We think it's a pretty safe bet that she was either wandering a long time, or she was badly neglected.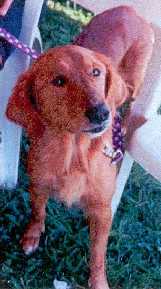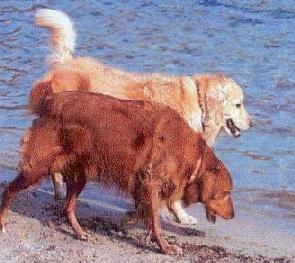 Cora having grown up almost her first year of life in a crate thinks that life and freedom are wonderful, plus she now weighs 58 lb. and is much more fit. Amber bonded instantly. She grew a beautiful sunset colored coat and gained 18 lb.!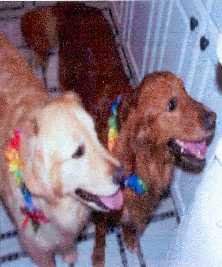 There is no breed like a golden!! They are among the most loving and forgiving breeds, so to adopt them is immensely gratifying. These two wonderful golden girls let us know everyday how grateful they are and how much they love us and, believe me, the feeling couldn't be any more mutual!!