To the LIGRR Community,
Jana and I would like to thank you for the opportunity a few weeks ago for the LIGRR fundraiser. Together it was very successful raising $125.
We would also like to announce that we will be teaming up with LIGRR, as well as other rescues, long term. We will be donating 10% of every sale going forward. Effective immediately you can now select LIGRR from a drop down menu at checkout and the donation will be automatically processed by Pledgeling. There is no cost to you for any of this. Also there is a tracker at the top of our website that displays how much has been raised to date across all rescues. If possible we ask that we be listed as a sponsor and show up on your emails and social media.
For those of who you purchased during the fundraiser, we appreciate you entrusting your dogs with us. We received nothing but positive feedback from everyone and that is fantastic. We hope you will continue to purchase in the future as LIGRR will get a donation every time you do. For those of you who didn't get a chance to purchase we hope you will give us a shot. You won't be disappointed.
Rescue is very important to us. We have adopted two Golden Retrievers from LIGRR. Ziggy who we believe is 4 and Murphy who is now 15. We volunteer for them whenever we can.
Finally, not only are you supporting rescue but you are supporting small business. These are challenging times for everyone and your support is very much appreciated.
With Warm Regards,
Jana & Gary
The Barkery Long Island (http://www.thebarkeryli.com/)
If you shop and use Amazon, don't forget to add LIGRR to your Amazon Smile account. When you use Amazon Smile (and you choose Long Island Golden Retriever Rescue) LIGRR gets donations back to help support our cause. Shop at https://smile.amazon.com - and choose Long Island Golden Retriever Rescue.
Help LIGRR go for the Gold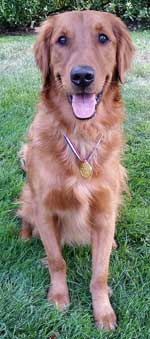 LIGRR is collecting unwanted gold (single earrings, broken items, pieces of chain, etc.). It's a BIG WIN! You de-clutter your jewelry box and donate it to LIGRR. The money made will help the dogs WIN BIG! Simply call LIGRR at 516-578-3803 so that a volunteer can arrange to get your donation.